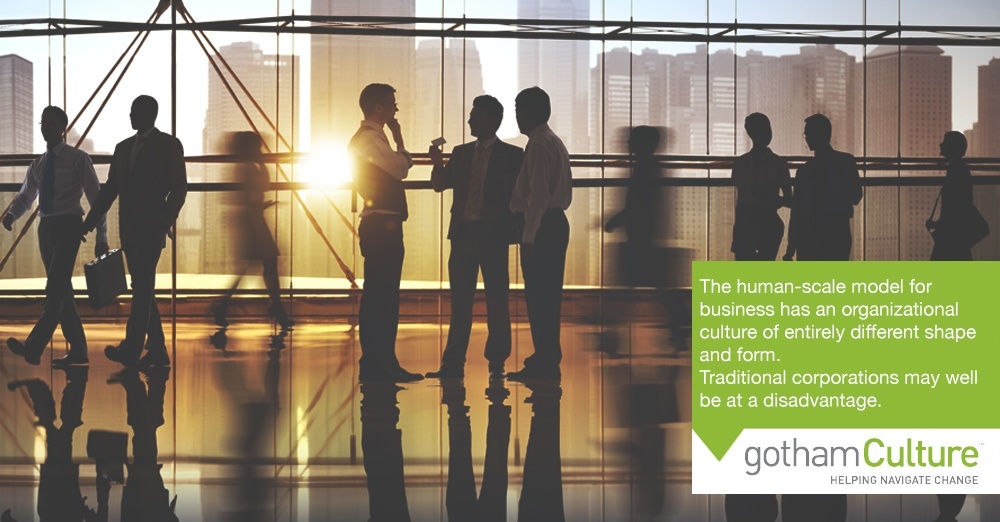 What does a conference about digital innovation have to do with organizational culture? A lot, it turns out.
We attended this year's Seattle Interactive Conference with two purposes in mind. First; get more familiar with the big thinkers in Seattle, gothamCulture's second base of operations. Second; to understand the emerging business models and organizational issues on the minds of the technology and digital entrepreneurship community.
The official theme of this year's event was "makers," and how commerce and culture are driven by innovation. However, the storyline we took away is the return to the human-scale model of business. It is one that efficiently leverages technology, and one with an organizational culture of entirely different shape and form. Traditional corporations may well be at a disadvantage.
The Answer is Always No Until You Ask (Click to Tweet)
Janelle Maiocco , CEO of Farmstr, the online marketplace for local farm food.
Janelle shared her lessons learned in dealing with adversity in her business, and how when the manure hits the fan, it can actually be a good thing.  Farmstr is a great example of the new economic model that cuts out grocery stores, speeds organic/local foods to people, decreases customer costs and increases farmer margins all at the same time by removing the middleman, and linking farmers directly to consumers.
Lesson: The human-scaling of groceries, by reconnecting consumers directly to farmers.
Crowd Funding is the Highest Form of Loyalty (Click to Tweet)
Jeremiah Owyang, Founder, Crowd Companies Council
Jeremiah spoke on "partnering with the crowd" – and his online business model for moving the crowd economy from reliance on big companies to reliance on each other. Examples of that include Pley.com, a Lego sharing site, Yerdle.com, and BoatBound.co, a peer-to-peer boat sharing community. The question is, what does it mean in the long term for commerce if consumers adopt this framework of reusing goods, rather than buying new from corporations?
Lesson: The human-scaling of commerce, by connecting and empowering people to share with each other.
When Things Become Emotional, They Become Universal (Click to Tweet)
Warren Etheredge of The Warren Report,
Warren spoke about how stories must be people-driven. We can't change peoples' opinions with simply premise or plot. From an organizational culture perspective, this is especially interesting. Culture is a collective concept and the values and norms for behavior are transferred from person-to-person and generation-to-generation through their stories (among other things). Stories convey a core message about what people should do or not do, and what is valued within a group.
Lesson: The human-scaling of communication. Tapping emotions among humans and connecting them to one another is foundational for the way today's organizations can thrive.
The Seattle Interactive Conference wasn't just for the local digital community. The thought leadership there, in both speakers and participants (as evidenced on Twitter as well as hallway conversations) reflected an incredible intellectual energy for creative thinking and innovation. The gathering was a creative resource for us, with ideas and thinking we plan to share with readers and clients in the coming months – human-to-human.