Guest article written by Stefanie Haussler
Generation Y (Millennials age 18 to 34) are an extremely important demographic in the current global workforce; their impact will profoundly shape corporate cultures and ideas about working for the next couple of decades. This generation has distinctly different priorities about life and work as compared to their parents.  After observing their parents, grandparents invest so much effort and time into their job, making money to take care of their children, and eventually retiring in their mid sixties- the Millennials hold different ideas on work, life balance and values.
They expect flexible working hours; they want to have time for traveling and to pursue interests and for friends and family.  Most notably, they care deeply about what they are doing and must understand why they are doing it. They expect a shared set of values with their employer.
I was born in 1985 and knew that I found my dream job when I saw the opening of the Feel Good Management position in 2011 on the Spreadshirt website. As a member of generation Y, I have always dreamed of working in an innovative, creative company with a cool product and having colleagues as close friends. A place where you feel unrestricted in terms of time, organization and decision-making. A culture where fun is embedded in working life, where you can grow creatively and professionally, and share in the advancement of ideas yet the work of the individual is appreciated.
Since Generation Y (my generation), has different demands and expectations for work and career development, savvy employers need to answer the "why" work at our enterprise to attract and retain key talent of this group of employees.
Here is how we've approached this critical shift in thinking about culture and employee engagement at Spreadshirt:
Start With a Great Culture
An informal and trusting work environment has always been a high priority on Spreadshirt's agenda. As a start-up, it is natural for a company to build and maintain an appropriate culture. But Spreadshirt grew out of the start-up phase a long time ago. Over 550 people work in worldwide locations and yet we strive to keep that start-up vibe alive. In 2011, Spreadshirt decided to create and advertise the feel good position.  Certainly many tasks of this position exist in every company.  However, we decided not to go for a  "Team Assistant" or "Internal Communications Manager", but rather to make a statement and define our idea with an appropriate job title: Feel-Good Manager. This title makes sure that the role goes beyond mere communication and team events and builds long-term relationships that matter to employees and the corporate culture.
Highly skilled and in demand employees have many job options today- from entry level to more seasoned workers. Primarily, the feel good position was created to retain and satisfy the existing workforce.  An employee who feels engaged and motivated is more likely to remain with the company. Spreadshirt, like many e-commerce firms, is facing a skilled workers shortage making Feel Good Management an integral component of our employer branding.
In the beginning, it was an experiment but now is firmly embedded in our company culture. It has taken root but still needs continually cultivating as our company scales up globally.
Top Duties of a Feel Good Manager
When I started as the first Feel good Manager at Spreadshirt, I needed to define my responsibilities and make everyone aware of my role. Now, my tasks fall into four main areas.
A big part of the role is planning events and internal campaigning. These are small after-work events like going out with colleagues having a beer at a local bar or organizing the highlight of every Spreadshirt year: our big summer party with family and friends.
As a part of the HR department, traditional HR work is also a part of my daily duties. It includes onboarding new colleagues as well as supporting "Spreadsters" with organizational questions like finding health insurance or a day care provider for their children.
Health is another important topic in Feel Good Management. We organize healthy snack lunches, in-house back training classes, and other activities to promote well-being.
The last big topic is internal communication. Nothing motivates more than good internal communication. Knowing and understanding the business and what stake you have is key to keeping your team engaged.
Acting as a networker is core to my role. I am always eager to stay in touch with my colleagues, love to know what's going on in our teams, keep tabs on potential problems or challenges, and keep my focus on what we can do as a company to keep everyone happy and motivated.
The most important keys to motivation are respect, credit for good work, acceptance and tolerance; all of which important to our values as Millennials. Feel Good Management is a promise for a respectful company culture towards all employees and will hopefully become a widely accepted practice.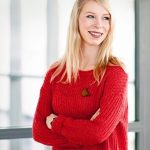 Stefanie Haussler is the first Feel Good Manager at Spreadshirt, a 

global platform for personalized clothing and accessories. There, she has pioneered a new role in employee engagement, helping integrate new employees into their company culture.