Guest Article Written by Andrea Learned
Even though we hear a lot about how much leadership is changing, one thing still holds: leaders don't take enough unscheduled time (or, we aren't hearing about it).  In a recent McKinsey Quarterly interview with Tom Peters, he cites the book Leadership the Hard Way, by Dov Frohman, and notes:
"The two things I remember from that book are, one, that 50 percent of your time should be unscheduled. And second—and I love that this is coming from an Israeli intelligence guy—that the secret to success is daydreaming."
The digitalization of productivity that we can get so excited about has a downside. It speeds up processes and planning, but it also crowds out the unstructured thinking time humans need to re-charge or think big and new.
Yet, many organizations build their culture around these questions: Why not fit another call in to your already-packed 10 hour day?  Why not say yes to a meeting request even though it is scheduled over your only possible break for lunch? How can you not say "yes, yes, yes" to all inquiries, when everyone in your organization can see your schedule has white space in it?
Organizational Culture Follows Your Lead
This is where personal agency comes in, and where leaders have the opportunity to start to model this for their teams. If there is no perceived allowance for junior staff to manage their own schedules to achieve their best levels of performance, they cannot be expected to stop the madness.
If employees don't see that the occasional mind-freeing use of unstructured time is important to leadership, they may well not take the necessary breaks they need to absorb, get ideas, reflect on mistakes and just process their days. The pressure cooker will cook itself.
Organizational culture is set by company-wide values that are demonstrated and committed to by leadership. You are the boss. All the written guidelines in the employee handbook mean nothing if leaders don't authentically acknowledge and live the power in unscheduled time.
A few ways leaders can indirectly model this behavior for their teams:
Purposefully reference books or articles you've read – especially those not obviously connected with your core business – that inspired you or gave you new perspective.
Do not respond to every email within seconds, it sets up ridiculous expectations. And, take some obvious time and attention in replying to at least a few internal emails a day, especially with junior staff.
Be somewhat vocal or visible when you are leaving the office to workout, take a walk or meet your spouse for lunch in the park.
Leave town and be unreachable. When you do it (and get management team members to do it too), others in the company will notice and be more inclined to do the same.
Structural Support for Organizational Change
The way a leader manages his or her own time can be a strong indicator for employees about an organization's values. But, in addition to the above somewhat less traditional markers, the Hay Group has conducted research on the more structural changes to help that cause.  And, the guidelines they suggest go beyond flexible work schedules and telecommuting.
A selection of Hay Group findings for leaders include:
Provide clear direction regarding organizational priorities to help employees focus on the highest-value tasks.
Implement policies and practices consistently to ensure that workloads are fairly and equitably distributed.
Emphasize high levels of teamwork within and across organizational units to provide employees with access to support from co-workers in coping with work demands.
Daydreaming To A More Productive Team
The move to a completely digital world does not automatically lead to increased productivity and improved life. Without the "white space" of time that has nothing to do with schedules and deadlines, you can't be leading at your best.
Because your team takes its cues from your work-life style as a leader, a thriving organizational culture will depend on both your actions and the policies and procedures that support a bit of unscheduled time.  By reading, delaying, walking and vacationing yourself, you demonstrate the values your team members can learn from.
A little daydreaming can go a long way.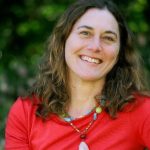 Written by Andrea Learned
Andrea Learned is a sustainable business thought leadership strategist and writer with a gender lens. The co-author of Don't Think Pink: What Really Makes Women Buy and How To Reach Your Share of This Crucial Market, Andrea regularly shares her unique perspective and curates business leadership topics via her Twitter feed and blog, Learned On.