Companies are taking creative measures to counter 'meeting fatigue.' From cutting meetings to a magic length (at Google, this is 50 minutes) to stand-up meetings (yes, standing vs. sitting), leaders are trying everything to improve efficiency and effectiveness of meetings.
Yet, how often do we still leave meetings dissatisfied with the outcome?  It was too long…didn't result in a decision…was monopolized by one or two players…left attendees with more questions than answers.
Leaders know that good meetings are a product of good leadership. While there isn't a one-size-fits-all formula for effective meetings, objective attention to the flow of your meetings is important for team development.
Mapping Opportunities With Data
We recently approached a client leadership team meeting as observers. Combining data-orientation with an eye to group dynamics, we plotted discussion milestones, determined topic frequency, and tracked specific players involved in the discussions that led to decision-making.  We then mapped the trajectory of the 2-hour discussion, broken into 10 minute increments.
The result is a data visual (see below), which we reviewed with the participants to better understand the conversation flow and decision making process. In the software, this content is linked. This enabled the participants to understand which conversations drove key milestones and which participants were involved in those decisions.
To see the fully interactive visualization, click here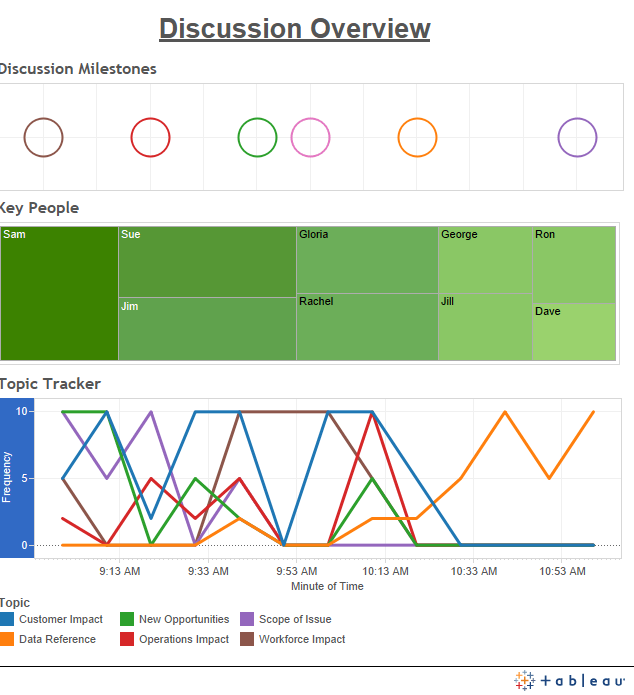 This model of provides a simple, but effective way to review what occurred during the meeting, pinpoint where the conversation may have moved in an unproductive direction, and identify opportunities to improve meetings. In the chart above, for example, the first 30 minutes were spent jumping from topic to topic. Only after 45 minutes did they start to discuss the connections between the topic areas.
Our meeting datafication pilot highlighted some important takeaways for the client's leadership team. Here are 5 highlights:
1. Open with a check-in – Get it out on the table. Where is everyone mentally? In the course of their day? Are they 'bought in' to the topic at hand? Sharing an agenda pre-meeting with opportunity for attendees to provide feedback helps ensure everyone is satisfied with the game plan before they enter the room.
2. "Parking Lot" ideas They are good ideas, but they aren't helpful for this conversation. Make note of any ideas to be rainchecked. They certainly shouldn't be lost, but they also don't need to derail this meeting's conversation if they aren't relevant to the agenda or decisions that need to be made.
3. Stay out of the weeds This is easier said than done. But when we reviewed our pilot meeting map with our clients, they were struck by the amount of time spent hashing out details.  A take-away after reviewing their discussion data was that they got stuck in the weeds when trying to come to consensus.  They settled on accepting 80% consensus and moving on rather than drowning in minutiae.
4. Hear from everyone If a certain participant's point of view isn't imperative to the discussion, they shouldn't have been on the meeting invite. If you haven't tapped all of the voices in the room, there could be critical data that isn't being considered in decision making.  Be deliberate about inclusion.
5. Ensure actions have owners If participants walk away without specific actions and clear accountability, seemingly productive meetings will have little impact.  Regardless of whether there are tangible actions that need to take place or simply giving deeper individual thought to certain ideas, team members should leave meetings assured of their next steps.
Visualizing the discussion process prompts teams to reflect on their meeting effectiveness AND group dynamics, which will improve team effectiveness overall.
[starbox id="Ashley Klecak,Stuart Farrand"]