Workplace Loneliness and the Importance of Community
A huge factor in the prevalence of loneliness at work is the lack of a nurtured and authentic community. As humans, we are organically communal. When the ability to form connections is absent it's natural for us to feel isolated.
In the workplace, community and culture are influenced by company values. Often those values aren't overly difficult to identify. The hard part is bringing them to life. Whereas values are defined, community is forever moving. It's not a process. It's an organic ecosystem that in many ways constantly evaluates the meaning of business values at a single point in time rather than adhering to them ongoing in an unwavering manner. In short, communal interactions are stress tests in cultural authenticity. They determine which values matter the most and challenge those that may not be overly robust or that employees can't live by. A positive values-driven community breaks down silos. It laterally cuts across organizations taking politics and difficult divergent views out of the picture. It has the power to bond by removing obstacles through shared goals, interests and commitments. It galvanizes and helps individuals and the company as a whole to grow, and through all of this, it's one of the most significant ways to prevent or reduce loneliness. Community through culture must, therefore, be fostered for the good of everyone.
7 Ways to Reduce Isolation In The Workplace
All is not lost. There are many approaches worth considering to manage the problem of loneliness in the workplace. Not every one is right for every company, but here are seven to consider.
1. Challenge the Stigma
As leaders, we have a moral as well as professional duty to explore, recognize, and address loneliness in both ourselves and in our team members.  Social stigma can make this difficult to achieve. One way to get past it is to question the reality of loneliness. The Indian Journal of Psychiatry reported in a 2013 paper that, "loneliness is not necessarily about being alone". Instead, it's, "the perception of being alone and isolated that matters most". In other words, it's a state of mind. Admittedly, this view goes against the thinking that loneliness is a disease but it does help to give us one way to frame the challenge of isolation and, potentially, tackle it.
2. Acknowledge Loneliness
Start by looking at yourself. Do you feel isolated? Do you sometimes feel as though you are the only person, team, or group experiencing something? Do you find yourself saying 'you wouldn't understand' when talking to others about a challenge?
If so, don't just put it to one side and try to push through until things get better. Acknowledge and act. Whether you take on the view that it's perception not reality or see it as a mental condition, open up about it to trustworthy colleagues, friends or family members. If you are suffering and can get over the social stigma, you'll be much more likely to help others to do so. Even if you've never experienced the feeling of isolation at work, be very aware that it exists in those around you. Look out for signs, gently check temperatures and research the topic to increase your understanding so that you can act in an informed manner, quickly, and effectively.
3. Increase Development Paths
Introducing or bolstering learning programs can help to build confidence, provide focus and bring new and positive thinking into our employees' lives. Being attentive and opening our minds in order to embrace new ideas, processes and plans is good for our wellbeing. Development planning can really help to bolster confidence and combat isolation. Learning can enable us to feel that our work lives have real meaning. A peer-to-peer training program in which newfound skills can be imparted brings together team members and fosters connection in an organic way. The opportunity to learn something and to problem-solve and share experiences with one another goes a long way to help people feel connected and to establish new relationships and sense of community.
4. Embrace the Power of Community
Encourage employees to become part of external communities. Help them to identify groups with whom they can share experiences, learn and grow. Recognize that social media can help to facilitate this. Partner with another business that may be part of your industry ecosystem that's not in direct competition. Pair up individuals from each company or ask them to form an industry think tank. Delegate representation of your business at industry or trade events to employees or ask them to sit in on trade committees. And then, ask them to share their experiences with the company in a way that makes them feel comfortable. Schedule weekly meetings and regular group outings for the entire business. Make client visits an opportunity to bring diverse individuals together and capitalize on shared travel time.
5. Rethink Workplace Environments
The majority of office environments are not conducive to social interaction. Loneliness can easily make its mark as a result of design, layout, and look and feel. Create openness and very differently designed mini, zoned environments where employees can gather informally or use to hold meetings. Bring in sectionals, hang hammocks in groups and build in unique features where they can have fun together. Knock down the break room walls and convert the space into an open bistro. Remove cubicles and move to group tables. If they are needed in an environment such as a call center, use transparent dividing walls.
A great example of the use of environment to foster increased community is digital content distribution company Red Touch Media The business has embraced soccer as a social activity and brought it into their office by integrating goal posts and an AstroTurf penalty zone. Employees can challenge each other on their goal-scoring abilities at any time of day, share through social media and in doing so create a culture of connection.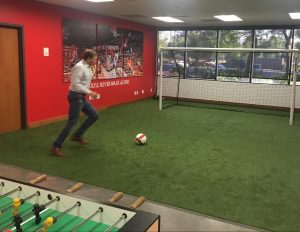 WeWork is a business that uses purpose-built communal workspaces to humanize work through creativity, connection, and focus. It provides engagement hubs for small businesses to come together and inspire each other by sharing their drive, creativity, and innovation. It also fuels this energy by providing weekly events from thought leadership panels to cheese tastings.
And for those moving to more remote working situations, there are still ways to get creative with building a community. Schedule monthly or quarterly strategy sessions and outings where the entire team can get together. Encourage team members to travel together to client sites, using the 'windshield time' while behind the wheel of a car, and taking advantage of just the time and space of being together while in transit from point A to point B.
6. Provide Time for Social Activity Outside of the Office
It's very encouraging to see more and more companies allowing individuals to work from home for a day per week. Laduma, a virtual reality consultancy, goes further by not only giving its employees time to work from home. It mandates that Friday afternoons must be work-free. No emails are allowed, no conference calls, nothing. Instead, employees are expected to do something socially positive. For example, it could be helping an elderly neighbor or as simple as just spending time with their families. Positive results include an increased feeling that the company cares, personal fulfillment through social community activities and time to reflect on challenges – including loneliness. Laduma also encourages employees to use the afternoon for personal needs such as dentist appointments. In doing so it means that team members don't have to take time out at different times on different days meaning that they spend more connected time together in the workplace.
7. Institute Social Cause Hit Squads
When it launched in 2005 Virgin Unite, the iconic brand's social and environmental cause division, came up with the concept of Virgin Hit Squads. Employees chose social and community causes that really mattered to them. The company then gave them a fixed number of working days per year to work in teams and complete specific goals in a set period of time.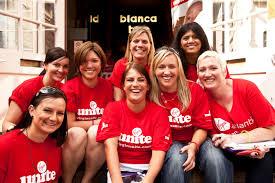 One of my colleagues had the opportunity to be part of one of the Hit Squads in London. Twenty team members gathered in an area of exceptional poverty and "hit" a number of apartments occupied by single parents with large families. In a single day they stripped the décor, redecorated, found better furniture for them and then cleaned every corner of the flat. The families were overjoyed and after the job was done the Hit Squad went to the local pub and celebrated as a group. That's two collective social experiences in one day! The Virgin Hit Squads were very successful in bringing employees out of isolation and doing a lot of good in the community.
The Last Word
The global epidemic of loneliness may never be completely eradicated but it can be contained and reduced by opening our eyes to new approaches. Contrary to the old adage reinforced every time we receive a flight attendant briefing on a flight, in this situation you should help yourself before helping others. Tackle any signs of loneliness in yourself and you're well on your way to reducing or preventing isolation in your own business, growing your productivity and adding a little happiness to an ever increasingly tumultuous world.
Remember, you're never truly alone.