Training & Development Classes for Government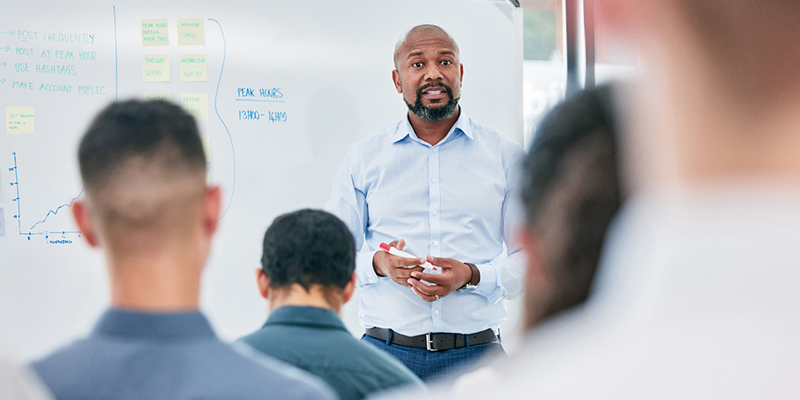 Leadership Training for Every Level
---
We offer a wide range of courses tailored to the unique needs of government organizations. By combining high-quality, research-based approaches with a deep understanding of the government sector, we can equip your workforce with Core, Elective, and Foundational courses.
Core Courses: Leadership and management development essentials needed for each career milestone.
Elective Courses: Content to give you the specialty skills needed for your work environment.
Foundational Courses: Basic business and professional skills to get you off to a solid start, or address specific gaps.
Search our offerings by duration, category, or keyword using the search bar below.
To inquire about pricing:
Click the "Add to Quote" button on the bottom left of the class category. You can do this with multiple classes by clicking the "Add More" button.
When you are finished click the "Click to request a quote" button.
Provide your contact information and click the "Request a quote" button, then "Request a quote" and one of our team members will reply with a quote within 24 hours.
Human Capital Management Training
GGS delivers human capital training, consulting, and learning systems for the Department of Defense, federal civilian agencies, and private industry. We specialize in providing mentoring and coaching experts to deliver training in innovative and highly interactive formats. We guarantee our training to be current, relevant, and learner-centered. Our products are highly customized to the changing culture of the client. As a result, over 90 percent of our business is from return clients and referrals.
GGS's human capital management discipline addresses directly the succession planning crisis looming in long-established enterprises today. These courses are designed to provide senior and junior executives alike with the tools necessary to distribute current and archived knowledge throughout the organization. GGS accomplishes this through an innovative, interactive education experience that includes state-of-the-art concepts and methods of knowledge management and organizational development.
Target Audience
This curriculum has been specifically targeted for personnel who are on the project manager career development track. In addition, the project management foundation it provides is also a valuable resource for the following personnel:
Executive personnel concerned with legacy and succession planning
All personnel desiring enhanced access to career paths reflecting leadership development
Engineers or technical managers with an interest in the human capital pressures
Government and industry counterparts in human capital
Featured Products
Talk to us! Not sure how to spend your training budget or have other questions?
Contact our training coordinator via email or phone at (202) 843.5447.
---